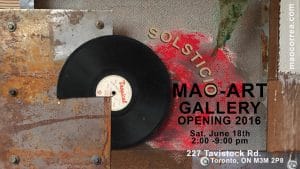 Mao Correa, a Colombian contemporary visual artist, painter, and graphic designer will host his second grand Studio & Gallery Opening on Saturday, June 18th from 2:00 pm to 9:00 pm at 227 Tavistock Rd., in Toronto.
Last year, with an incredible success, Mao Correa became the first Latin American artist in Toronto to transform his space into a public gallery to feature his art-work. Mao-Art Gallery is today an inclusive and alternative exhibition art place that provides to diverse immigrant artists in Toronto and GTA a space for sharing their artworks outside the rigidity of the traditional "white cube" and at the edges between nature and urbanscape. Unrestrained from the constraints of usual art-designated locations, Mao-Art Gallery encourages a collective art experience that engages our senses, breaks spatial boundaries, and challenges our aesthetic perceptions of reality.
For over 25 years, Mao Correa has maintained an independent practice as a visual artist expressing through the creation of eclectic and visceral art work, his fearless attitude against the lack of environmental awareness and frenzied consumerism.
More than seven hundred paintings, ensembles and sculptures made exclusively from cast-off materials talk about the art-actions that underlie his artwork: recycling, reusing and recovering.
Landing in 2013 with a wooden crate full of paintings from his last series, Mao Correa arrived to Canada looking to explore and nurture his creative process. His current art-work, painting and assemblage, conspires to desecrate his internal journey as a new immigrant artist to Canada.
Mirroring his own experience, and resignifying his esthetics through the view of the diversity, he is now not only breaking down pre-existing materials, reinterpreting and offering them a new form with a new purpose, but also reintegrating his soul to a new country.
SOLSTICIO 2016 will feature several pieces by Mao Correa, including new art- works from his 2016 series-in process "Solitary Portraits".