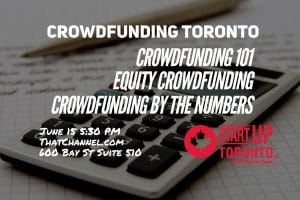 Startup Toronto presents a Crowdfunding bootcamp on June 15.  Want to learn what you need to know about crowdfunding? Have specifics questions you want answered? Want to talk to experts one on one? Get all you need in this one amazing event.  Purchase your Tickets on line and receive 50% of the Door price of $20.
Crowdfunding 101 – What are the basics of a successful campaign.
Learn about new crowdfunding legislation including crowdfunding for non profits and equity crowdfunding. How to Raise $100K in 8 Days.
Learn about the 'CrowdFirst – Crowdfunding by the Numbers' method.
• How to gather your crowd
• How to test your idea
• How to measure
• What to measure
• What does your campaign need to succeed
Network with crowdfunding speakers and mentors and get your questions answered
Khierstyn Ross – Crowdfunding Strategist & Podcaster who was recently featured in The Huffington Post for raising over $1,000,000 for her crowdfunding clients, will be sharing her experiences and presenting 'How to Raise 100K in 8 Days'